My two-year-old has an incredibly short attention span. What two-year-old doesn't, really? So in my search for Christmas-themed crafts and activities, I had to weed through quite a bit to find ones that work for tiny fingers and an overall lack of dexterity. Furthermore, there are so many crafts out there! Who has the time to make them all? So, we're doing just a few this year and we'll do each more than once so my little one can begin to learn how to do it herself.  Below are a five of our faves. For complete lists and ideas for those older than two, follow the links at the bottom. 
1. Hand-print Reindeer
Trace your toddler's hands and feet (I recommend your own foot otherwise you'll end up with a tiny-faced reindeer) and assemble this beauty. Finish with stick-on craft eyes and a pom-pom nose.
2. Homemade Advent Calendar 
Fabric (felt seems to be the popular material) rolled around two wooden dowels with a string in the middle to hang it and you've got the base. Now fill in the days any way you want, providing treats or trinkets behind each day to give your toddler something to look forward to when they pull the number off. I had a friend write out the Christmas story in 25 kid-friendly lines and use a line behind each date so by Christmas, their child had learned the whole story. Very cool.
3. Cotton Ball Santa
Paper plate, cotton balls, felt felt, craft eyes and glue? Yes please. Super easy and very hard to screw up.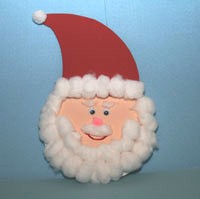 4. Sponge-Painted Christmas Lights
Seriously cool craft that's a bit messy but if you use washable finger paint, you won't have such a terrible clean-up job. See the last link below for instructions.
5. Felt Christmas Tree
While you may have to make this without much help from your wee one, once it's made, they will have so much fun decorating and redecorating it. See the link below for instructions.
Links:
All Kids Network Christmas Crafts
25 Christmas Crafts for Toddlers